Patty Sackett Chrisman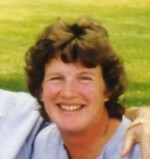 7 Patty Sackett Chrisman
Sackett Family Association membership
Patty Sackett

Chrisman


Maplewood, New JerseyG.
Email


Member # 7 (founding)
Joined 28 September 2003
Mailing list subscriber: Yes
Committee
Member 2003–8, 2013–17.
About
Patty Sackett Chrisman is one of the original members of the Sackett mailing list and of TSFA. She is originally from Portland, Oregon, but has lived on the East Coast for about 15 years and now lives in Maplewood, New Jersey with her husband Stephen and their sons James (10) and Thomas (6). Patty has a BFA (1982) and an MS (1990) in Historic Preservation from the University of Oregon. Prior to the birth of her children, Patty worked for four years as an Historian and Architectural Historian for the National Register of Historic Places at the National Park Service in Washington, D.C.
Patty has been involved in genealogy since her teens—predominantly as a way to find out about the ancestors of her much loved grandfather, Russell W. Sackett. Her grandpa's parents divorced when he was very young, leaving him with no connection and no knowledge of his paternal family. Genealogy has proved to be quite compatible with her academic work—mostly studying the history and material culture of 17th and 18th century America. Patty truly enjoys research—particularly the use of primary documents. She is a big reader and knitting is a passion.
Patty serves as Vice Chair of the Maplewood Historic Preservation Commission and also does a bit of consulting. She is active in the elementary school as a volunteer and is a Deacon in the Presbyterian Church. Patty and her family spend weekends in the summer and fall hiking and biking and in the winter and spring all weekends are spent skiing.
—TSFA Newsletter July 2004.
Sackett ancestry
Thomas

Sackett

the elder (say 1530–1595), labourer of St Peter in Thanet, Kent, and Joane

___
Thomas

Sackett

the younger (c1557–1615), yeoman of Birchington, Kent, and Martha

Strowde
Simon

Sackett

the colonist (1595–1635), of Thanet, Kent, & Newtown (Cambridge), Massachusetts, and Isabel

Pearce
John

Sackett

(1632–1719), farmer of Westfield, Massachusetts, and Abigail

Hannum
John

Sacket

(1660–1745), farmer of Westfield, and Mahitable

(Danks)

Harris
Isaac

Sacket

(1703–1773) and Elizabeth

Shepard
Lieut David

Sackett

(1743–1838) and Lucretia

Shepard

(see Sackett ancestry 2, below)
John

Sackett

(s1784–1847) and Eunice

Leffingwell
Elisha Shepard

Sackett

(c1815–) and Maranda

Hall
Charles William

Sackett

(1843–1926) and Katherine Elizabeth

Van Buren
Sherman Marcellas

Sackett

(1864–1942) and Teresa

Russell
Russell William

Sackett

(1898–1999) and Helen

Sippy
Sackett ancestry 2
Patty Sackett

Chrisman

has the distinction of being a double Sackett descendant following the marriage in her line of second cousins once removed Lieut David Sackett and Lucretia Shepard.
John

Sackett

(1632–1719), farmer of Westfield, and Abigail

Hannum
Samuel

Sacket

(1674–1709) and Elizabeth

Bissell
Benoni

Sacket

(1710–1785) and Mindwell

Smith
Elisabeth

Sacket

(1734–) and Lieut John

Shepard
Lucretia

Shepard

(1758–) and Lieut David

Sackett
| | |
| --- | --- |
| Generation.Tree | 12T.3a |
| Last Edited | 21 September 2019 |