Darlene Sackett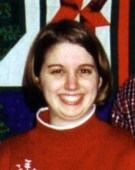 6 Darlene Sackett
Sackett Family Association membership
Darlene

Sackett


Newberg, OregonG.
Email


Member # 6 (founding)
Joined 28 September 2003
Groups.io mailing list subscribed: 10 Jan 2020
Darlene's daughter Anna

Tabor

is a Sackett Family Association member.
Committee
Member 2003–8, 2009–15, 2019–; President 2014–15.
Non-committee posts
Newsletter Editor 2003–8.
Reunions
Salt Lake City 2004; Vancouver WA 2010.
About
Darlene Sackett, of Portland, Oregon is the only child of Howard and Donna Sackett. Though currently pursuing her master of arts in counseling, she previously was a residential counselor working with adolescent boys in residential treatment. After completing her master's degree she would like to continue working with adolescents as a counselor or case manager.
Outside of work, she enjoys spending time with both her parents and husband of almost three years. Though she and her husband do not yet have children, they do have two cats that seem to think they are human.
Darlene's search for her ancestors began in 2001 after she had quit her job and actually had time to do some research. Her grandmother had left her some family tree information and Darlene is now gladly continuing the work.
In addition to genealogy, Darlene also enjoys scrapbooking, gardening, reading, art, decorating, watching movies and traveling. Some of her favorite places to vacation are Disney theme parks, the Oregon Coast and Canada.
Sackett ancestry
Thomas

Sackett

the elder (say 1530–1595), labourer of St Peter in Thanet, Kent, m. Joane

___
Thomas

Sackett

the younger (c1557–1615), yeoman of Birchington, Kent, m. Martha

Strowde
Simon

Sackett

the colonist (1595–1635), of Thanet, Kent, & Newtown (Cambridge), Massachusetts, m. Isabel

Pearce
John

Sackett

(1632–1719), farmer of Westfield, Massachusetts, m. Abigail

Hannum
William

Sacket

(1662–1700), of Westfield, m. Hannah

Graves
Joseph

Sacket

(1690–1756), m. Abigail

Bigelow
Erastus

Sacket

(1721–c1810), m. Elizabeth

Leonard
Joseph

Sacket

(1764–1842), m. Lucy

Goff
Zelotus

Sackett

(1788–after 1860), m. Sabrina

___
Orlin

Sackett

(1824–1905), m. Ann Elizabeth

Hanscom
Elton

Sackett

(1868–1913), m. Nellie Sofia

Birch
Elihu Elton

Sackett

(1892–1967), m. Amy Floretta

Maine
Arnold Howard

Sackett

Sr (1913–1991), m. Inez Anna

Pierce
| | |
| --- | --- |
| Generation.Tree | 13U.3 |
| Last Edited | 29 Aug 2023 |