The Sackett Tavern A talk and tour by James Homan, chairman of the Westfield Cultural Council
A highlight of the reunion was a guided tour of the historic Sackett Tavern at Western Avenue, Westfield. The present owners, although away at the time of our visit, had generously allowed the Sackett group to view the main rooms of the house, and to wander the grounds. Our guide, chairman of the Westfield Cultural Council, James Homan, ably assisted by Bob Plasse, gave the group an informative and entertaining account of the history and renovation of this splendid house, as well as serving refreshments thoughtfully provided by the owners.
The Sackett Tavern, sometimes referred to as the Washington Tavern, is on the route of the now-named Henry Knox Trail, taken by Colonel Knox in 1775/76 when his men hauled 59 cannons from Fort Ticonderoga and Crown Point, New York, to the Continental Army camp outside Boston. It is believed that General Washington stayed at the Tavern to await Knox's arrival.
The house was built in 1775 and Stephen and Eunice SackettNote were the first innkeepers and owners. The original tavern had four rooms at ground level: the men-only tavern room, the "keeping room" where the women would assemble and sit doing their projects, a dining room, and kitchen. Upstairs, taking the full width of the house, was a sprung-floor ballroom, and there were two guest bedrooms to the rear. The substantial cellar was used during the Revolutionary War as a temporary prison, where captured Hessian mercenaries were chained to await collection by soldiers returning to the main fort.
The house was restored in the 1960s by Mr and Mrs Fuller who went to great lengths and considerable expense to stay faithful to the high craftsmanship of the original Georgian colonial construction, even to the detail of hand-forged nails, hinges, and latches. Much of the internal woodwork is in pumpkin pine. A substantial wing was added to the rear of the house, again painstakingly finished in period style and with period materials.
The present owners, who had bought the property from the Fullers in the 1990s, had been told that there had been a Sackett cemetery somewhere on the property, but that the headstones had been moved during the reconstruction of Western Avenue up to General Knox Road. The stones had not been found. Small items, musket balls, spoons, and other items from the Revolutionary War period and beyond, had been found from time to time in the fields by "treasure hunters" with metal detectors.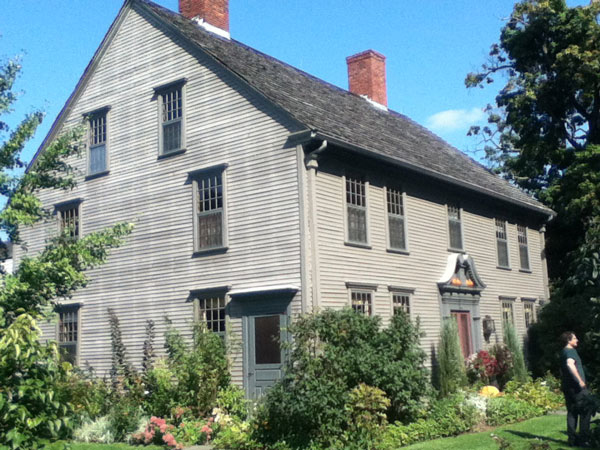 Note:
Stephen Sackett (1748–1830), son of Eliakim & Bethesda (Fowler) Sackett, was a great-grandson of Westfield settler John Sackett (1632–1719) who had built a log house on the site, just west of where the Sackett Tavern now stands. Stephen married Eunice Ross in late 1776, and it may be assumed that their five children were brought up in the house.