The Family Record, 1897
No. 1. January 1897
The Family Record.
Devoted for 1897 to the Sackett, the Weygant and the Mapes Families, and to Ancestors of their Intersecting Lines.
Published Monthly by C.H.Weygant, Newburgh, N.Y.
The Family Record,
Published Monthly
TERMS:
$1.00 per year in advance.
Advertising rates supplied on application.
Address all communications to
C.H.WEYGANT, 77 Renwick St., Newburgh, N.Y.
1897
The MAPES FAMILY—The DESCENDANTS of REV. GEO. HERRMAN WEYGANDT, of the Rhine Palatinate—The SACKETT FAMILY.
In each issue for 1897 not less than six columns of genealogical "Lines" and Biographical Records relating to each of these families will be published in The Family Record.
PROSPECTUS
About twenty-five years ago the writer was made the custodian of an extensive collection of original manuscripts, relating to the Sackett family. They consisted in part of official documents, land papers, personal letters and genealogical records, covering a period extending back well into the first half of the last century.
A year or two later he came into possession of a somewhat similar and equally ancient collection, which had been accumulated by several generations of pains-taking descendants of Michael Weigand, one of the patentees of the site now occupied by the City of Newburgh, N.Y.
A third collection of data, which relates to the Mapes Family, and was secured by extended personal research, has recently been enlarged by some two hundred typewritten pages of "Notes and Documents from the Public Records," copied and compiled by the Rev. A.E.Allaben, who, in discontinuing a task for which he was admirably qualified, says, with regard to his undertaking and its result, "Through a personal interest amounting to a kind of fascination, I have been led to bestow an amount of labor at the outset not dreamed of. * * It will doubtless supply a foundation for any future effort. * * I have neither the time nor means for a further pursuit of the subject."
A considerable number of the original letters and documents above referred to are in the handwriting of illustrious statesmen and soldiers of the Revolutionary period, including Washington, Hamilton, Heath, Wayne, John Hancock, George Clinton, William Duer, Robert Harper, and Eben Hazzard. While the subject matter of some of these is of but slight historic value, they will doubtless all prove exceedingly interesting to descendants of the patriots to whom they are addressed.
The more immediate object sought to be accomplished by the publication of The Family Record is the establishment of a comparatively inexpensive means of communication between the kinsmen of near and remote degree. By means of its columns the writer will, he believes, be enabled to convey to the many whom he seeks to interest, some reliable facts, which should be preserved, relating to the genealogy or personal history of their ancestors and kinsmen. And by the same means he will attempt to secure from each of them some other facts of interest relating to their individual family history, of which he desires to be informed.
The post office address, and the individual co-operation of every person in America, old enough to read and write, who is connected by blood or marriage with either of the families to whom this publication is devoted, is most earnestly desired.
Will the person to whom this initial number is addressed be so kind as to promptly acknowledge its receipt, and to add to his acknowledgment the address of such of his kinsmen as he is able to recall?
On receiving your acknowledgment of receipt of January number of The Family Record, we will mail to your address blanks calling for such additional information as we may require relative to your immediate family.
It is believed our subscription list will speedily assume such proportions as to warrant an increase in number of pages or more frequent dates of publication.
CHAPTER I.
The Sacketts and Sackvilles are of Norman descent. Their ancestors came into England with William the Conqueror. For five hundred years they have there enjoyed unusual military, literary, social and political prominence. The writer is unable to state just where, or under what circumstances the most prominent branch of the family in England changed the last syllable of their name from "ett" or "ette" to "ville." But the records show that all titled branches cling with pride to the armorial bearings conferred on ancestors who bore the ancient name of Sackett—spelled sometimes with, but frequently without, the final "e."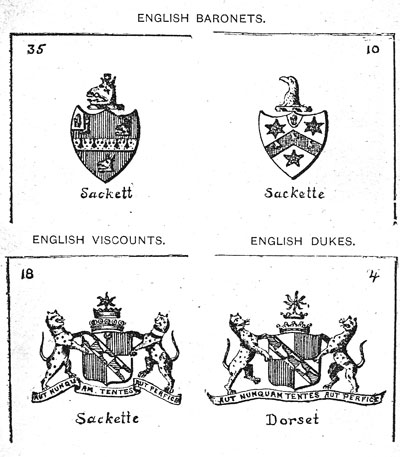 The arms shown above are copied from a rare old book, which has an interesting history. The outside title on its sheep-skin cover is simply "1815." On the fly leaf there is written, in a bold and regular hand, "Major General Wilson." It contains some eight hundred pages, made up of East India Civil, Military and Marine lists, and various other records and tables containing information of undoubted importance to trusted servants of the Crown; together with well executed cuts of "Arms of the Royal Family," and of some twelve hundred peers and baronets of the United Kingdom, arranged in "The Establishment Order of Precedency" by John Stockdale, Piccadilly. The compilers were, "J. Mathison, A.W.Mason, and J.S.Kingston, of the Secretary's Office, East India House."
This rare book was found among the effects of Dr. John H. Sackett, surgeon of the U.S.Army, who served through the War of 1812, and died in New York City, June 15, 1822. If all the circumstances relating to its transfer from the custody of General Wilson, of the British Army, to Surgeon Sackett, of the U.S.Army, were known, they would doubtless furnish material for a most interesting paragraph. The references contained in this book, to arms shown above, are as follows:
Plate 35.—"Sackett, John, Leeds and Somerbypark, Lincoln, Sept. 25, 1813."
Plate 10.—"Sackett, William, Matson, Northumberland, December 12, 1673."
Plate 18.—"Charles Sackville Germain, Viscount Sackville and Baron Bolebrooke, in Surrey. Born August 27, 1767; succeeded his father, George, the late Viscount, August 26, 1785. Creations, Viscount and Baron, February 9, 1782."
Plate 4.—"George-John-Frederick Sackville, Duke of Dorset; Earl of Dorset and Middlesex; Baron Buckhurst and Baron Cranfield. Born November 15, 1793. Succeeded his father, John Frederick, the late Duke, July 19, 1799. Creations, Baron Buckhurst, in the County of Sussex, June 8, 1567, 9. Elizabeth, Earl of the County of Dorset, March 13, 1603, 1 Jac. I; Baron Cranfield, of Cranfield, in the County of Bedford, and Earl of the County of Middlesex, April 4, 1675; 27 Car. II; and Duke of the County of Dorset, June 13, 1720, 7 Geo. I."
Lord George, the father of Lord Charles Sackville Germain, referred to above, was the son of Lional Sackville, the first Duke of Dorset. Lady Betty Germain, at her death in 1769, left her property to Lord George Sackville, on condition of his assuming her surname, which he did accordingly. Lord George was born January 26, 1717. He entered the army, served under the Duke of Cumberland and was wounded in the breast at the famous battle of Fonténay. In 1758 he had risen to the rank of Lieutenant-General and was Privy Councilor. In the expedition to Germany that year in aid of the King of Prussia he was appointed second in command of the English forces under the Duke of Marlborough. On the death of the latter before the close of the year the command in chief devolved on Lord George. He held that office until the memorable battle of Minden, August 1st, 1759, when, in consequence of some misunderstanding between himself and Prince Ferdinand, he returned to England in disgrace. After the accession of George the Third, he was again received at court, and on November 10th, 1775, was appointed Secretary of State for the Colonies. This position he held throughout the long conflict which ended in their achievement of independence, and permanent establishment among the mighty nations of the world as the United States of America.
There were two other noted members of this branch of the family of whom it will perhaps be well to make mention in this connection.
"Thomas Sackville, Earl of Dorset," says Lodge, in his "Portraits of Illustrious Personages of Great Britain," "was born in 1536, and educated at Oxford and Cambridge. He was the first poet, and one of the first statesmen of his time; and the biographer who would profess to celebrate his fame with justice should be at once a poet and an historian, a politician and a critic. He was the only son of Sir Richard Sackville, a lineal descendant of one of the Norman Band which accompanied William the Conqueror to England; Chancellor of the Court of Augmentation under Edward the Sixth, and in the two following reigns, and a Privy Councilor to Mary and Elizabeth, the last of whom he served also in the office of Chancellor of the Exchequer. This gentleman was nearly related to Elizabeth, for he was first cousin by his mother to Anne Boleyn."
Lord Clarendon, writing of Edward Sackville, fourth Earl of Dorset, who was born in London in 1590, says, "His person was beautiful, and graceful, and vigorous; his wit pleasing, sparkling and sublime; and his other parts of learning and language of that lustre that he could not miscarry in the world." Lodge adds, "He was indeed one of the most accomplished orators of his time and was held in high respect for the independence and purity of his principles. He had a command in the forces sent to the Palatinate in 1620, and fought in the decisive battle of Prague. The following year he was employed on a mission to the Queen Regent of France, and on his return was sworn of the Privy Council. On the accession of King Charles he was chosen a Knight of the Garter and appointed Lord Chamberlain to the Queen."
But this is to be a record of the Sacketts of America rather than of their "English cousins."
Near the close of the year 1630 the ship Lyon, laden with provision and having on board 26 passengers, sailed out from the seaport of Bristol, England, bound for Massachusetts Bay Colony. Her passengers were cultured and well-to-do Puritan Colonists, who, in consequence of persecution and social ostracism because of their religion, had determined to leave comfortable homes in the land of their birth, and seek liberty of conscience with such fortune as might await them on the green shores or in the primeval forests of the fair land of New England.
The member of this little company destined to meet with severest trials, and to be most favorably remembered in the land whither they journeyed, was the able and fearless young Cambridge student and minister, Roger Williams. Our interest, however, is centered more directly in a family group of his fellow passengers, consisting of Simon Sackett, his young wife Isabel, their infant son Simon, and John, a stalwart lad, the brother of Simon the elder. From these are descended all the older lines of the family in America.
LINE I.
PARENTS.
CHILDREN.
 
Generation I.
___? Sackett, of Isle of Ely.
1. SIMON, ___? 1635.
2. John, ___? 1684.
I.
II.
1. SIMON SACKETT, of Newtown, Mass., married in England, Isabell ___?
3. SIMON, 1630–1655.
4. John, 1632–1719.
II.
III.
3. SIMON SACKETT, of Springfield, Mass., married Sarah, dau. Wm. Bloomfield.
5. JOSEPH, 1656–1719.
III.
IV.
5. CAPT. JOSEPH SACKETT, of Newtown, Long Island, N.Y., married, about 1678, Elizabeth, dau. of Capt. Richard Betts. For his second wife he married ___?. For his third wife he married Mercy, widow of Capt. Thomas Betts and dau. of Major David Whitehead.
6. RICHARD, ___? 1727.
7. Anna, 1681–1757.
8. Joseph, ___? 1755.
9. Simon, ___? 1718.
10. Elizabeth, ___? 1716.
11. John, ___? 1728.
12. Sarah, 1689–1766.
13. Abigail, 1695–1752.
14. William, 1697–1761.
15. Patience, 1700–1772.
IV.
V.
6. REV. RICHARD SACKETT, of Greenwich, Conn., married ___?
16. SAMUEL, 1712–1784.
17. Elizabeth, ___?
18. Nathaniel, ___?
19. ___, ___? ___?
V.
VI.
16. REV. SAMUEL SACKETT, of Westchester County, N.Y., married ___? Hannah, dau. of Nathaniel Hazard.
20. Joseph, 1735-1757.
21. NATHL., 1737–1805.
22. Samuel, ___? 1780.
23. James, ___? ___?
24. Hannah, ___? ___?
25. Deborah, ___? ___?
26. Elizabeth, ___? ___?
27. ___? ___? ___?
VI.
VII.
21. HON. NATHANIEL SACKETT, of Fishkill, Dutchess County, N.Y., married on Jan. 3, 1759, Mary, dau. of Anannias Rogers.
28. Anannias, 1760, ___?
29. SAMUEL, 1762–1841.
30. Nathaniel, 1768–1854.
31. Hannah, 1771–1832.
32. Elizabeth, 1778–1862.
VII.
VIII.
29. SAMUEL SACKETT, of New Windsor, Orange County, N.Y., married February 14, 1788, Polly, dau. of John Halstead, and for his second wife he married Oct. 29, 1803, Mary, dau. of Nathan Bailey.
33. John H., 1789–1822.
34. Nathaniel, 1782–1825.
—2d w.—
35. SAM'L B., 1805–1887.
36. Mary, 1809–1884.
37. William H., 1815–1888.
38. F. Augustus, 1815–1891.
VIII.
IX.
35. SAMUEL BAILEY SACKETT, of Newburgh, N.Y., married January 9, 1833, Elizabeth T., daughter Samuel McCoun and Deborah Woodward.
39. Sarah Cornelia.
40. Mary Louise.
41. Henry McCoun.
42. Elizabeth McC.
43. CHARLOTTE.
IX.
X.
43. CHARLOTTE SACKETT, married C.H.Weygant of Newburgh, N.Y.
44. Bessie.
1. SIMON SACKETT was a native of Isle of Ely, Cambridgeshire, England. The good ship Lyon, on which he and his family crossed the ocean, in company with Roger Williams and his bride Mary, had a long and tempestuous mid-winter voyage. She sailed from Bristol December 1, 1630, but did not reach Nantasket Roads, off Boston town, until the 5th day February, following. Her long delay had caused great anxiety throughout the colony; for an unexpected influx of colonists late in the previous year had caused the supply of provisions in the towns to run so low that famine was imminent, and Governor Winthrop had already ordered a day of fasting with prayer for deliverance, when the sails of the relief ship Lyon were seen in the offing; whereupon the Governor so changed his proclamation as to make it call for a day of feasting and thanksgiving. To this fact, it is said, we are indebted for our American Thanksgiving day, so dear to us all, but more especially to the sons and daughters of New England.
About a month previous to the arrival of the Lyon, Governor Winthrop, Deputy Governor Dudley, and their "assistants," to whom, and their successors, King Charles had recently committed the Charter Government of Massachusetts Bay Colony, had formally selected, a few miles inland from Boston, a site for a new town, which it was their purpose to fortify and make the permanent seat of government. It was understood and agreed that the Governor, and six of the eight assistants should each erect on the site selected a permanent house, suitable for the accommodation of his family, in time to spend the following winter there. But shortly thereafter several of the assistants became deeply interested in private business projects at Boston and other settlements and neglected to carry out their part of the agreement. The undertaking was not, however, abandoned, or long delayed, for in the spring of 1631, Winthrop, Dudley, and Secretary Bradstreet, together with six other "principal gentlemen," including Simon Sackett, "commenced the execution of the plan" by erecting substantial dwellings, and thereby laying the foundation of what is now the beautiful University City of Cambridge.
The house erected and occupied by Simon Sackett and his family, stood on the north side of what is now Winthrop Street, in the centre of the block between Brighton and Dunster Streets.
From the commencement of the settlement, records were made of the "agreements of the inhabitants," touching matters of mutual interest, as well as of the public acts of town officials, all of which have been preserved to the present day. On the first page of these rare old records the names of the before mentioned founders of the place are recorded.
The first regular entry is dated December 24th, 1632, and reads as follows: "An agreement made by a general consent for a monthly meeting. Imprimus—That every person undersigned shall meet every first Monday in every month within the meeting house, in the afternoon, within half an hour after the ringing of the bell, and for failure to attend, or departing without leave before the meeting be ended, shall forfeit for each default XII pence, and if it be not paid before the next meeting then to double it, and so on until it be paid." This proposed agreement was evidently drawn by Deputy Governor Dudley, acting as a private citizen of the town, but it does not appear to have met the approval of his townsmen, as only one person beside himself signed it, although it was offered for signatures.
Under date of January 7, 1633, "It is ordered that no person whatever shall set up any house in the bounds of this town without leave from the major part."
"Further it is agreed by a general consent that the town shall not be enlarged until all the vacant places be filled with houses."
"Further it is agreed that all the houses shall range even and stand just six feet on each man's own ground from the street."
Early in 1633 the "Society of Newtown," having completed their meeting house, with a bell on it, doubtless the only church bell then in America, "extended a call" to Thomas Hooker, one of the most learned, able and eloquent non-conformist ministers in all English speaking Europe. And on the fourth day of September, that year, Mr. Hooker reached Boston, bringing with him, as assistant and teacher, Samuel Stone. They immediately proceeded to Newtown, where they were received "with open arms by an affectionate and pious people."
Wood, in his "New England's Prospects," written in the latter part of 1633, gives the following description of Newtown at that period: "This is one of the neatest and best compacted towns in New England, having many fair structures with many handsome contrived streets. The inhabitants, most of them, are very rich and well stored with cattle of all sorts, having many hundred acres of land paled in with general fence, which is about a mile and a half long, which secures all their weaker cattle from the wild beasts."
For two years after the arrival and installment of Messrs. Hooker and Stone, Newtown continued to increase in population and general importance. Meantime Bradstreet succeeded Winthrop as Governor, and true to the original agreement, to which he was a party, made Newtown, during his administration, the seat of Government for the colony.
Liberty of conscience, equality under the law, and democratic local government, were among the "inalienable rights" forcefully and persistently advocated by Mr. Hooker from the day he reached New England. And when, a few months after his arrival, the General Court, composed of the Governor and his assistants, passed a law restricting the right of suffrage and holding of office to church members, and, by arbitrary acts and orders relating to internal affairs of the towns, made known a deliberate determination to centralize all governing powers, local as well as general, in its own body, Mr. Hooker became convinced that the members of the flock over which he had been called to preside had made a grievous mistake in locating at that place; and he took upon himself the task of convincing them that they could best secure the cherished rights and privileges for which they had already sacrificed so much, by once more leaving comfortable homes and seeking a new place of abode beyond the jurisdiction of Massachusetts Bay Colony, in the wilds of Connecticut.
The Rev. John Cotton, meantime, espoused the cause of the General Court, and boldly defended its so-called usurpation of power. Hooker and Cotton were universally recognized as intellectual giants and soon became the veritable leaders of thought in matters temporal as well as spiritual throughout the colony.
These facts are pertinent in this connection mainly as showing something of the social, political and religious atmosphere which surrounded Simon Sackett and his family during his short sojourn in that pretty village, in the founding and building of which he had been a potent factor; for, while the controversy over the rights of the towns was at its height his health gave way and in October, 1635, he died leaving surviving him his wife Isabelle, and two sons, Simon, aged five years, and John, aged three.
On the third of November following, Widow Isabelle Sackett was granted, by the court, authority to administer on the estate of her late husband. On same date, and doubtless at same session of the court, the memorable decree was entered which banished Roger Williams from the colony. Mrs. Williams had come to Newtown with her husband on that occasion, "he being in feeble health," and it is altogether probable they were entertained at the home of their bereaved friend and fellow passenger on their voyage from England, whose home was convenient to the public building where the court was held.
Widow Sackett's name appears on the Newtown records for the last time under date of February 8, 1636. In June of that year the Rev. Hooker's congregation, having either sold or leased their dwellings, removed to Connecticut—Widow Sackett and her boys forming part of the migrating company. Dr. Trumble gives the following account of their journey: "About the beginning of June, 1636, Mr. Hooker and about 100 men, women and children took their departure from Newtown and traveled more than a hundred miles through a hideous wilderness to Hartford. They made their journey over mountains, through swamps, thickets and rivers, which were not passable but with great difficulty. They had no cover but the heavens, nor any lodgings but those that simple nature offered them. They drove with them 160 head of cattle and carried their packs and some utensils. This adventure was the more remarkable, as many of the company were persons of figure, who had lived in England in honor, affluence, and delicacy, and were entire strangers to fatigue and danger.
Immediately after Mr. Hooker and his followers from Newtown in Massachusetts Bay Colony had established themselves at Hartford, a record was made of all heads of families in the new settlement. That the name of widow Isabell Sackett does not appear in this list is explained by facts which indicate quite plainly that she was married shortly after her arrival there to William Bloomfield, whose daughter by his first wife subsequently married Simon, the oldest son of his second wife by her first husband, Simon Sackett the elder. The evidence of this, though purely circumstantial, is too strong to admit of a reasonable doubt.
WILLIAM BLOOMFIELD was born in England in 1604. In 1634 he sailed for New England in the ship Elizabeth, (William Andrews, Master), which left Yarmouth in the month of April, and reached Boston the following June. He brought with him his wife Sarah, aged 25, and their only child, an infant daughter named for her mother, aged about one year. The Bloomfields on disembarking at Boston seem to have proceeded immediately to the comfortable home of Simon Sackett, at Newtown. The two families had doubtless been neighbors and friends in England and, as it appears, were destined to become more closely united in the New World. Sarah, wife of William Bloomfield, probably died shortly after their arrival at Newtown. The records show conclusively that William Bloomfield did not remain any considerable length of time in Newtown after Mr. Hooker and his congregation removed to Hartford. Paige in his "History of Cambridge" (Newtown), states that Wm. Bloomfield was there in 1635, and removed to Hartford, Conn. Hartley's "Hartford in the Olden Time" records the fact that Wm. Bloomfield, as a citizen of that town, participated in 1637 with Captain Mason and his ally the Indian Chief Uncas in their short and decisive campaign of extermination against the Pequots. The Newtown, Mass., records show that in 1638 William Bloomfield transferred to Robert Stedman the house and lot "on the north side of Winthrop street, between Dunston and Brighton streets," which according to Paige's "Map of Cambridge in 1635" was the Sackett Homestead. "Porter's map of Hartford in 1640," which purports to locate the residence of every family in the place, makes no mention of widow Sackett, but shows the dwelling of William Bloomfield in the centre of a spacious corner lot near "Little River," on road from "Mill to Country." The "Historical catalogue of First Church of Hartford" records the fact that William Bloomfield and family remained there until after 1648, when they removed to New London. It is not known how long they remained at New London, but in 1656 they were at Springfield, Mass., and shortly thereafter at Middleberg, Long Island, where for the remainder of his life, William Bloomfield was recognized as a leading citizen. In 1663, when the English towns of New Netherland rebelled against Dutch authority, the civil affairs of Middleberg were by choice of the inhabitants placed in charge of Wm. Bloomfield and five other "trusted citizens," and ever after he was held in high esteem. Nor record of his death, or of the death of his second wife, has been found. He left an estate of considerable value, mainly to his son Daniel.
2. SIMON SACKETT, son of Simon the Elder, married about the year 1653, Sarah, daughter of Wm. Bloomfield. He established his home at Springfield, Mass., where on March 13, 1656, he took the Oath of Fidelity. His death occurred there July 9, 1659, in his 29th year. He was survived by his wife Sarah and their only child Joseph.
5. CAPT. JOSEPH SACKETT, only son of Simon and Sarah Bloomfield, was born at Springfield, Mass., Feb. 23, 1656. After the death of his father in 1659 his childhood home seems to have been with the family of his grandfather Bloomfield, and from early youth to old age he was a resident of Newtown, L.I., and for many years a trusted citizen. He was a "member in full communion" and an office bearer in the Presbyterian Church. His name appears frequently in lists of Road Commissioners, Assessors, Collectors and Supervisors of his town. The Colonial and Documentary Histories of New York show that he was commissioned by successive Governors of the Province as Ensign, Lieutenant and Captain of Long Island troops. His name is to be found in lists of recipients of Royal Patents, or land grants, and of Commissioners selected and appointed to adjust town and county boundary disputes, so prevalent and troublesome in the early history of New York and Connecticut. He was thrice married and died near the close of the year 1719, leaving a large estate and a very large family.
CAPT. RICHARD BETTS, the father of Elizabeth, the first wife of Capt. Joseph Sackett, was born in Hertfordshire, England, in the year 1613. He came to New England about the year 1635, and in 1636 settled at Newtown, Mass., from which place, prior to 1642, he removed to Ipswich, where he remained until about 1654, when he became a permanent resident of Newtown, Long Island. There he soon acquired prominence and influence, and for upwards of half a century participated largely in public affairs. In the revolution of 1663 he bore a zealous part, and after the conquest of New Netherlands by the English he was a member from Newtown of the Provisional Assembly, held at Hempstead in 1665. He was "High Sheriff of Yorkshire, upon Long Island" from 1678 to 1681. For a long series of years he was a magistrate, and several times a member of the "High Court of Assize," then the supreme power in the province. His name is honorably mentioned in upwards of thirty distinct paragraphs on the pages of "Riker's Annals of Newtown," the last of which reads as follows: "The last survivor of the original purchasers, Capt. Richard Betts, died on Nov. 18, of this year" (1713), "at the patriarchal age of a hundred years. None in the township has been so eminent as he for commanding influence and valuable public service. His remains were interred on his own estate at the English Kills, on the 20th, with a funeral service by Mr. Poyer, rector of Jamaica Parish."
The name of the second wife of Capt. Joseph Sackett is unknown and it is not believed that she was the mother of any of his children who reached maturity.
Mrs. Mercy Whitehead Betts, who became the third wife of Capt. Joseph Sackett, was the daughter of Major Daniel Whitehead, of Jamaica, and Abigail, daughter of Thomas Stephenson. Major Whitehead served several years in the magistracy of Queens County and was a member of the Colonial Assembly of the province from 1691 until his death in 1704.
When in 1711 Capt. Joseph Sackett and widow Mercy Betts were married, the former was 55 years of age and had eleven children, while the latter was about 48 and had nine children, making an even score. Each had a daughter Abigail, each had a son Richard, and each had a daughter Elizabeth. Sixteen of the number married and had children, and nearly all the sons, as well as the husbands of the daughters, became men of prominence in their day and generation; while among their descendants have been Governors of States, Cabinet Officers, Bishops, Judges, Generals and Ministers of the United States to the principal Courts of Europe.
6. REV. RICHARD SACKETT, eldest son of Captain Joseph and his wife Elizabeth Betts, was born at Newtown, L.I. He studied divinity and graduated with honor from embryo Yale College, being at the time about thirty years of age. It is not known to whom or at what date he was married. Mead in his "History of Greenwich" says "The Second Congregational Society in 1717 extended a call to the Rev. Richard Sackett, who came and preached for the society to the time of his death, which occurred in 1727. He is spoken of as a kind, mild man, universally beloved by his people."
16. REV. SAMUEL SACKETT, son of the Rev. Richard, was born at or near Greenwich, Ct., in the year 1712. He studied divinity and became a Presbyterian minister. In 1734 he married Hannah, daughter of Nathaniel Hazard, then a merchant of New York City. Shortly after his marriage he took up his residence in Orange Co., N.Y., where the Sackett and Hazard families were largely interested in real estate, owning many thousands of acres in what are now the towns of Blooming Grove, Montgomery, Cornwall, and New Windsor. The young couple resided during the first eight years of their married life under the shadow of Storm King Mountain, in the present Town of Cornwall. During these years Mr. Sackett labored as a missionary in that and adjoining towns. One of his preaching stations was Little Britain. In 1742 he was sent by the Presbytery of New Brunswick to preach in Westchester County—the special field assigned him being Cortlandt Manor, embracing North Salem, Cortlandtown, Crompond, and Somers. In 1743 he was installed pastor of the Presbyterian Society of Bedford. From 1747 to 1749, Crompond (now Yorktown), secured his services for one half of the time. From 1749 to April 11, 1753, he labored mainly at Bedford. He was then settled over the church at Hanover, Conn., where he remained until 1760, when he returned to the church at Crompond. In 1765 he was again at Hanover, which was the scene of his labors until after the commencement of the Revolution. A letter written by him to his son Nathaniel, at Fishkill, N.Y., and dated Hanover, Oct. 29, 1776, contains the following urgent request, which was doubtless complied with: "Send us two wagons immediately to help us away with some small matters before the enemy are upon us." Another letter from same to same, dated Hanover, Oct. 16, 1778, begins in this wise:
"Dear Children:—I may by these lines inform you that we have got down and are in the parsonage. All our goods are as low as Esquire Pattejoin's at Frederick's Burrough. Two loads have got home, and they are gone for more this day. The stock is also come."
The last years of Mr. Sackett's life were spent at Crompond, where he died July (sic) 5, 1784. For over a century a plain tombstone has stood in the cemetery adjoining the church at that place bearing this inscription:
"REV. SAMUEL SACKETT,
who died June 5, 1784.
He was a judicious, faithful, laborious and successful minister of Christ."
[The next entries—for Thomas Hazard, Jonathan Hazard, and Nathaniel Hazard—are substantially the same as those appearing in the 1907 book, pp 41–43, save as noted below:
In the 1897 work, Thomas Hazard is correctly referred to as great-grandfather of Hannah, wife of Rev. Samuel Sackett, not grandfather, as stated in the 1907 book p 41.]
[The next entry—for Hon. Nathaniel Sackett—is substantially the same as that in the 1907 book, pp 79–86, save as noted below:
The 1897 work gives additionally for Nathaniel
"… was born in the precinct of Cornwall, Orange Co., N.Y., April 10, 1737."
The 1897 work gives Nathaniel's marriage to Mary Rogers as Jan. 3, 1757. The 1907 book gives Jan. 3, 1759.
The earlier work also says, "Miss Rogers was born Aug. 28, 1743, and was therefore but a few months past fifteen years of age on her wedding day."]
[Weygant also included in his 1897 work copies of letters to Nathaniel from his father Samuel. The following is from Weygant 1897:]
… The following letters addressed to "Nathaniel Sackett at Fishkill" give such interesting glimpses into the real character and domestic life of both father and son that I copy them intact:
Dear Son,

I received yours of the 24th inst., in which you inform me of the poor state of health of Molly and Sammy, which I am sorry to hear, and I now send Samuel to see how you are. By reason of my preaching this week I cant come. Your mamma is poorly and your uncle's children being here makes it difficult for her to get out.

These troubles rise not out of the dust. God's hand is in them and they have voices which I hope you may hear. It's nothing beyond what I have expected, for it's evident you don't live and act with that tenderness and caution, that circumspection you had shown some time back. And those impressions which you before had I am afraid are languishing. However, you have so much light that you can't sin at so cheap a rate as many others do. O, my son, what will it avail you to gain the whole world and lose your own soul? You have been under fair opportunities. God has striven much with you. If it is not too late (as I hope it is not) strive to enter in at the strait gate. Be more anxious to get Christ than lands or anything else here below. And I hope God may sanctify this dispensation to your good and the good of Mollie; that it may be a means of quickening in you that which is ready to die, viz: your conviction and escape to Christ.

Several of us have been exercised with great colds, but at present are better. In haste, with love to yourself and Mollie, in which mamma joins.

From your affectionate parent,
Samuel Sackett.
Hannover, May 29, 1765.
The effect of the good man's letter on the lives of the afflicted couple at Fishkill, whose first-born son had by some accident been made a cripple for life, cannot be shown, but the records make it clear that the child-wife, then the mother of three children, and her injured son Sammy, both lived beyond the allotted "three score years and ten." The second letter runs in this wise:
Dear Children:—We have not heard from you since Nattie come from New York. We want very much to hear of your welfare and circumstances. I have been hoping, my son, you would have been down before now. Your bay has lived through his sickness, though I expected for some days he would have died. My fodder is very short and won't hold out. I may send him to you, expecting you have hay enough. Mr. Lee is the bearer of this and if I can get him to take the trouble of leading him up you will receive him with these lines.

We have heard your sister Hannah has the smallpox light. Your sister Debbie is very poorly. She has sent for Lissa, who proposes to go down this week. Mr. Graham has a book of mine, viz: "Mr. Edwards Humble Inquiry," and so I would have you get it and send it to me. We want to see you, but mamma must before long go down to Debbie. Unless you can come down I don't expect we can come up. We are, through mercy, in a common state of health. Our love to you all.

From your affectionate parent,
Samuel Sackett.
Hannover, December 28, 1767.
The attack of smallpox suffered by Hannah, the sister of Nathaniel, to which the Rev. Samuel refers, must have been exceedingly light. She was the wife of Stephen James, son of Hon. James DeLancey and grandson of Annie, daughter of Hon. Stephen Van Cortlandt, and was, years after date of her father's letter given above, reputed to be a strikingly beautiful woman. The following incident in her life is from the testimony of Thomas Strong in "McDonald Manuscripts," now in possession of George H. Moore, Esq. It has already been published in "Riker's Newtown," and "Bolton's Westchester," but will bear repeating:
This lady, mounted on a fine bay horse, was endeavoring to escape from the burning of the meeting house by the British in July (June), 1779, when she was overtaken about a mile north of Crompond by some of the enemy's cavalry, who robbed her of her shoe buckles and ear rings and requested her to dismount. She refused, exclaiming: 'Is this the way you treat unprotected females? I will inform your superiors. Where is your commander?' On his appearing she informed him that she was the wife of Stephen De Lancy, and added, 'Is this proper treatment for her? I demand an escort to a place of safety.' The British officer, on hearing De Lancey's name, granted her request. She carefully abstained from telling him she was the daughter of Mr. Sackett, the Whig Presbyterian minister of Crompond.
I doubt not she was even more careful not to mention the fact that she was the sister of Nathaniel Sackett, for reasons which will presently appear.
[The above also appears in Weygant 1907 at p 90.
The next several paragraphs are the same as in Weygant 1907, pp 80-82, starting:
"The part taken by Nathaniel Sackett …. & ending:
"… by authority of the governing powers of the State exercised them with discretion and success until the close of the war."]
[This is the end of the January, 1897, issue of The Family Record, except for this plea from Weygant:]
Reader! Whither you be young or old, if you have any Sackett blood in your veins you cannot afford to delay subscribing for The Family Record. And surely you will not decline to aid the publisher to the extent of sending him the addresses of such members of the family as you are able to recall, together with the names of your ancestors, as far back as you have reliable records.
---
The Family Record, 1897
No. 5. May 1897
The Family Record.
Devoted for 1897 to the Sackett, the Weygant and the Mapes Families, and to Ancestors of their Intersecting Lines.
Published Monthly by C.H.Weygant, Newburgh, N.Y.
The Family Record,
Published Monthly
TERMS:
$1.00 per year in advance.
Advertising rates supplied on application.
Address all communications to
C.H.WEYGANT, 77 Renwick St., Newburgh, N.Y.
Bill of Sale of Negro Slave
(From the publisher's collection of Michael Wygant manuscripts.)
Daniel Bloomer to Michael Wygant
Know all men by these presents, that I, Daniel Bloomer, of the town of Newburgh, County of Orange, and State of New York, for and in consideration of the sum of two hundred and twenty-five dollars, lawful money of the United States, to me in hand paid by Michael Wygant, of the Town of Marlborough, in the County of Ulster, and State aforesaid, at and before the sealing of these presents, the receipt whereof I do hereby acknowledge myself therewith fully satisfied, have bargained and sold, and by these presents do bargain and sell, unto the above named Michael Wygant, a certain negro man named Dick, aged thirty-two years or thereabouts, a slave now in my possession, to have and to hold the above named slave, Dick, by these presents bargained and sold unto the said Michael Wygant, his heirs and assigns forever, and I, the said Daniel Bloomer, for myself, my heirs, executors, administrators, and assigns, and against all and every other person or persons, whatsoever, shall and will warrant and forever defend by these presents. I witness whereof I have herewith set my hand and seal this twenty-sixth day of December, in the year of Our Lord one thousand eight hundred and seven.
DANIEL BLOOMER
Signed, sealed and delivered in the presence of us.
JONATHAN CONKLIN.
SACKETT LINE III. Revised and Extended
(For preceding generations see Line I.)
PARENTS.
CHILDREN.
Generation II.
Generation III.
4. JOHN SACKETT, 1632–1719, of Northampton, Mass., and of Westfield, Mass., married, Nov. 23, 1659, Abigail Hannum, who died Oct. 9, 1690. He married for his second wife Sarah, daughter of John Stiles and widow of John Stewart.
101. John, Jr., 1660–1745.
102. WILLIAM, 1662–1700.
103. Abigail, 1663–1696.
104. Mary, 1st, 1665–1667.
105. Hannah, 1669–___?
106. Mary, 2nd , 1672–___?
107. Samuel, 1674–___?
108. Elizabeth, 1677–1682.
III.
IV.
102. WILLIAM SACKETT, 1662–1700, of Westfield, Mass., married, Dec. 27, 1689, Sarah Crain.
109. Joseph, 1690–___?
110. Hannah, 1692–___?
111. Rebecca, 1694–___?
112. JONATHAN, 1696.
IV.
V.
112. JONATHAN SACKETT, 1696–1773, of Westfield, Mass., of Hebron, Conn., and of Kent (now Warren.) Litchfield County, Conn.
113. Jonathan, Jr. 1727–1777.
114. Justus, ___?___?
115. Reuben, ___?___?
116. BENJAMIN, ___?___?
117. ___? ___?___?
V.
VI.
116. BENJAMIN SACKETT, of Litchfield, Conn., and of Lebanon, Albany Co. (now Columbia Co.), N.Y., married Miss Buel, daughter of Ebenezer Buell.
121. John, 1764–___?
122. BUEL, 1763–1840.
123. Deborah, 1762–___?
124. Benjamin, 1766–___?
125. Aaron, 1767–___?
126. Elijah, 1768–___?
126a. Dorothy, 1770–___?
126b. Thankful, 1772–___?
126c. Isaac, 1773–___?
126d. Calvin, 1776–___?
VI.
VII.
122. MAJOR BUEL SACKETT, 1765–1840, of Litchfield, Conn., and of Lebanon, N.Y., married, first, Sally Earl Beach. For his second wife he married Lydia Buel.
127. John, 1785–1827.
128. PHILO, 1788–1863.
129. Norman, 1791–1868.
130. Nathan, 1794–1874.
131. Ebenezer, 1799–1846.
132. Harry E., 1805–1886.
VII.
VIII.
128. PHILO SACKETT, 1788–1863, of Hector, Schulyer Co., N.Y., married, Jan. 6, 1814, Grace, daughter of Sands and Mary (Plumb) Perkins, of Chatham, N.Y. She was born at South Kingston, R.I., Jan. 16, 1787.
135. Sarah M., 1816–1828.
136. SOLON P., 1818–1893.
137. Samuel W., 1820–1880.
138. John C., 1821–1896.
139. Mary E., 1825–1897.
140. Roxana M., 1827–___?
141. Buel S., 1829–___?
VIII.
IX.
136. DR. SOLON PHILO SACKETT, 1818–1893, of Ithaca, N.Y., married, Sept. 17, 1844, Lovedy Keturah, daughter of Charles and Keturah (Dunlap) Woodward.
142. CHARLES W., 1845.
143. Joseph S., 1847–1850.
144. Mary L., 1848–1869.
145. Ruth V., 1852.
146. Henry W., 1853.
147. Sarah, 1858.
148. Nettie, 1858–1863.
149. Carrie D., 1860–1863.
IX.
X.
142. CHAS. WOODWARD SACKETT, of Addison, N.Y., married Oct. 10, 1872, Ida Emeline, daughter of William and Caroline (Seymour) Cowles.
149a. Carrie L.
149b. Eda May.
THE SACKETT FAMILY
2. JOHN SACKETT, the founder of the New Haven branch of the Sackett family, came to New England with his brother Simon on the relief ship Lyon, which sailed from Bristol, England, December 1, 1630, and reached Boston in the early part of the following February.
Either before leaving England, or during this tedious midwinter voyage, he seems to have formed a strong attachment for the talented young non-conformist minister, Roger Williams, who was a fellow passenger.
In looking up the record of the Sackett family in America, the writer has been led to suppose that John Sackett, on the occasion of his embarkation for America, was a lad in his teens and a member of the household of his brother Simon. But authentic records have recently come to light which show conclusively that he was at the time a married man and the father of an infant son, John Jr. He may also have had other children, but if so, the proof is as yet lacking.
A few months after the Lyon sailed into Boston Harbor, Simon Sackett became interested with Governor Winthrop and his Assistants in laying the foundation of the City of Cambridge. John Sackett, meantime, followed Roger Williams to the Plymouth settlement, and afterwards to Rhode Island. But life in the wilderness, surrounded by treacherous Indians, evidently soon lost for him all its charms, and he made his way to New Haven. Like many of the early colonists he seems to have been of a somewhat roving disposition, and no reliable information concerning the history of any member of his family, save of himself and his son, John, Jr., has been found among the early colonial records. It is probable his wife died shortly after his arrival in this country, and that John, Jr. was their only child. His name is first mentioned in New Haven records under date of 1640, at which time he was in the employ and would seem to have been superintending the estate of a widow named Stolya. According to a tradition which is in the main verified by official records, he was a man of pleasing address, and the widow Stolya from playing mother to the son fell desperately in love with the father, who does not appear to have reciprocated her affection and spoke slightingly of her love making. Whereupon she made complaint to the General Court that he had slandered her. When the case was heard the finding of that August body, "then the supreme power in the province," was that "John Seckett (Sackett) be admonished to tender to the widow Stolya such satisfaction as she might accept."
At a subsequent session of the General Court, held at New Haven, John Sackett signed the "Oath of Fidelity," and in 1646 was made the custodian of the Public Building in which the General Court was held. The following is copied from Court records of 1647:
"John Sackett presented to court bill for putting up some poles and spending some nayles; the said John gave in a note to the court, of charges which had been spent about the house, to the value of about 17s, 8d."
It is not now known how long John Sackett, the elder, continued a permanent resident of New Haven after 1647, nor is it known where he spent the closing years of his life or when he died. That he outlived his son John, Jr. is made apparent by following extract from a "search of Probate office of New Haven," made by the venerable L. B. Sackett, Esq., Attorney-at-Law, of Poughkeepsie, N.Y., in 1850, viz:
"John Sackett, inventory of the estate of John Sackett, Junior, late of New Haven, deceased, taken this 6th day of Oct. 1684."
45. JOHN SACKETT, Jr., was born in England about the year 1628. His father brought him to America when he was probably not more than two years old. In 1646 he was a resident of New Haven and a member of the Train Band, or local militia company. The records of General Court of that year contain a minute setting forth the fact that John Sackett had been fined 6 cents "for wanting a rest at a training he attended." A rest was a stick, crotched at one end, and was used to steady the heavy muskets when taking aim. On May 20, 1652, John Sackett, Jr. married Agnes Tinkham, and continued to reside at New Haven until his death, which occurred Sept. 3, 1684. He was survived by his wife Agnes, three sons and two daughters. Widow Sackett seems to have outlived all her children, dying in 1707.
The records of New Haven Probate office show that on Apr. 25, 1707, an inventory of Estate of Agnes Sackett was filed by Joseph Sackett, administrator. Also that on July 8, 1712, Lieut. Joseph Sackett, administrator of John and Agnes Sackett, was discharged from his bond. This Joseph Sackett was the grandson of John and Agnes (Tinkham) Sackett.
pp 51–53
[These pages contain entries for the following & are substantially the same as those appearing in Weygant 1907: Abigail Sackett, dau of Capt Joseph Sackett, and her husband, John Alsop, p 38 of Weygant 1907. John Alsop, Jr., s of John & Abigail Sackett Alsop, pp 72-73. Mary Alsop & Rufus King pp 130–131. John Alsop King, p 193. Charles King, p 193. James Gore King, p 194. Edward King, p 195. Frederick Gore King, p 196. General Rufus King, p 293. Colonel Charles King, p399.]
LINE IV.
(For preceding Generations see Lines III. and I.)
PARENTS.
CHILDREN.
Generation IV.
Generation V.
8. JUDGE JOSEPH SACKETT, 1680–1755, of English Kills, Newtown, Long Island, married, in May, 1706, Hannah daughter of Richard Alsop. She was born Jan. 11, 1690, and died June 17, 1773.
150. Joseph, 1707–___?
151. Richard, 1709–1726.
152. Hannah, 1711–1762.
153. Elizabeth, 1713–1721.
154. John, 1716–1783.
155. Deborah, 1718–1754.
156. Frances, 1720–1754.
157. James, 1722–1784.
158. Samuel, 1724–1780.
159. A daughter, 1725–1725.
160. Thomas, 1726–1769.
161. Elizabeth, 1729–1778.
162. WILLIAM, 1731–1776.
V.
VI.
162. WILLIAM SACKETT, 1731–1776, of Newtown, Long Island, married, Sept. 3, 1759, Sarah, daughter of Captain Samuel Fish by his first wife, Agnes Berrien. Sarah Fish was born February 24, 1739, and after the death of her husband, William Sackett, she married John Wood, a lawyer of New York City.
163. Samuel, 1762–1763.
164. WM. W., 1765–1833.
165. ___?___?___?
166. ___?___?___?
167. ___?___?___?
168. ___?___?___?
VI.
VII.
164. WILLIAM W. SACKETT, 1765–1833, of Hunting Grove, N.Y., of Newburgh, N.Y., of Monticello, N.Y., and of Lumberland, N.Y., married, in 1790, Susan Smith, who was born Nov. 5th 1771, and died at Houesdale, Wayne Co., Penn., in 1855. She was the daughter of Nathan Smith.
169. Wm. Wood, 1791–1836.
170. Louisa, 1792–___?
171. Harriet, 1793–___?
172. Nathan S., 1795–1853.
173. Caroline, 1796–___?
174. Nicholas F., 1799–___?
175. Mowbray A., 1801–1871.
176. JAMES W., 1803–1887.
177. Sarah C., 1805.
178. Susan, 1807–1808.
179. Susan S., 1809.
180. Elizabeth, 1812.
181. ___?___?___?
182. Charles J., 1816–1885.
VII.
VIII.
176. JAMES W. SACKETT, 1803-1887, of Wilkesbarre, Penn., married, July 31, 1834, Nancy, daughter of Silas Beers. She was born Aug. 1, 1815, and died Dec. 24, 1890.
183. Laura J., 1835.
184. WILLIAM W., 1836.
185. Susan E., 1838.
186. James E., 1840.
187. George O., 1843.
188. Nicholas F., 1846–1848.
189. Wesley N., 1847–1864.
190. Frances A., 1848–1870.
191. Martha M., 1850.
VIII.
IX.
184. WILLIAM W. SACKETT, born 1836, of Wilkesbarre, Penn., married, Oct. 4, 1864, Anna M., daughter of Jacob Lentz, and his wife, Elizabeth Rehrig.
192. Sarah E., 1865. 193. Emma H., 1868.
194. Charles E., 1871–1872.
195. Frances E., 1873.
196. Henry S., 1876.
197. George F., 1879.
LINE V.
(For preceding Generations see Line I.)
PARENTS.
CHILDREN.
Generation V.
Generation VI.
18. NATHANIEL SACKETT, son of Rev. Richard Sackett, of Greenwich, Conn., married Ann, daughter of Justus and Annie Bush, of Rye, N.Y.
198. James, ___?___?
199. William, ___?___?
200. Joseph, ___?___?
201. Nathaniel, ___?___?
202. JUSTUS, 1740–1827.
203. Abigail, ___?___?
204. Mary, ___?___?
VI.
VII.
202. JUSTUS SACKETT, 1740–1827, of Greenwich, Conn., married Anna Lyon, who was born in 1741, and died Feb. 15, 1837.
205. JUSTUS, ___?___?
206. Samuel, ___?___?
207. John, ___?___?
208. Mary, ___?___?
209. Sally, ___?___?
210. Betsey, ___?___?
VII.
VIII.
205. JUSTUS SACKETT, of Greenwich, Conn., married Clarissa, daughter of Dr. Elisha and Lydia (Reynolds) Belcher. She died June 21, 1844. Justus Sackett married for his second wife Eunice Peck; they had no children.
211. Elisha B., ___?___?
212. William H., ___?___?
213. Lydia, died in infancy.
214. Mary, ___?–1829.
215. Amos M., ___?___?
216. Justus R., 1, ___?___?
217. Clarissa, ___?___?
218. Lyman, ___?___?
219. Martha W., ___?___?
220. JUSTUS R., 2, ___?___?
221. Alice, ___?–1846.
222. Nathan, ___?___?
223. Sarah, ___?–1897.
VIII.
IX.
220. JUSTUS RALPH SACKETT, of Brooklyn, N.Y., married, Feb. 28, 1843, Mary Elizabeth daughter of Jabez and Sarah Williams (Knapp) Mead.
224. Sarah M., 1845.
225. Sherman G., 1847.
226. Frederick W., 1849.
227. Edward R., 1851.
228. George T., 1854.
229. WALTER L., 1857.
230. Franklyn W., 1859.
231. Robert J., 1861.
IX.
X.
229. WALTER LYMAN SACKETT, of Brooklyn, N.Y., married April 21, 1891, Julia Ann Knapp Mead, the daughter of William J. and Catherine (Carrol) Mead.
232. Katherine C., 1893.
233. Walter L., Jr., 1896.
LINE VI.
(For preceding Generations see Lines III. and I.)
PARENTS.
CHILDREN.
Generation V.
Generation VI.
113. JONATHAN SACKETT, JR., 1727-1777, of Hebron, Conn., married, in 1750, Huldah Phelps, who died at Bainbridge, N.Y., in 1803.
234. WILLIAM, 1753–1842.
235. Philo, 1766–1834.
236. Jesse, ___?___?
237. Alman, ___?___?
238. A daughter, ___?___?
239. A daughter, ___?___?
240. A daughter, ___?___?
241. A daughter, ___?___?
242. A daughter, ___?___?
243. A daughter, ___?___?
VI.
VII.
234. WILLIAM SACKETT, 1753–1842, of Warren, Litchfield County, Conn., of Thedford, Orange County, Vermont, of Aurelius, Cayuga Co., N.Y., and of Senaca Falls, Senaca County, N.Y., married, in 1774, Eunice Bowen, who died March 10, 1784. On May 29th, 1786, he married his second wife, Parthenia Patterson.
244. A dau. died in infancy.
245. A daughter, mar. ___?
246. A daughter, mar. ___?
247. A daughter, mar. ___?
Children by second wife.
248. Russell, 1787–1824.
249. Eunice, 1788–1847.
250. Garry V., 1790–1865.
251. Jonathan, 1792–1869.
252. Nathan, 1796–1877.
253. Ann, 1798–1881.
254. Caroline, 1801–___?
255. Amanda, 1803–1889.
256. Fanny, 1808.
257. WM. A., 1811–1896.
VII.
VIII.
257. HON. WILLIAM A. SACKETT, 1811–1896, of Aurelius, of Seneca Falls, and of Saratoga Springs, all in the State of New York, married, 1st, ___? Zade Thorn. He married his second wife, Charlotte, daughter of Horatio G. and Mary (Barnard) Butrick, in 1847. His third wife was Mary Marion.
258. Zade E., 1836.
259. William, 1838–1864.
By second wife.
260. Harriet M., 1842.
261. Edward S., 1844.
262. Frederick A., 1846.
263. ZILLA, 1848.
VIII.
IX.
263. ZILLA SACKETT, of Syracuse, N.Y., was married Sept. 4, 1872, to Charles L. Stone, Esq.
264. Charles S. Stone, 1873.
265. Samuel H. Stone, 1878.
266. Zilla R. Stone, 1885.
LINE VII.
(For preceding Generations see Lines III. and I.)
PARENTS.
CHILDREN.
Generation V.
Generation VI.
114. JUSTUS SACKETT, of Kent, (now Warren) Litchfield County, Conn.
267. BENJAMIN, 1762.
268. Lodina, ___?___?
269. Salmon, ___?___?
270. Lydia, ___?___?
271. Homer, ___?___?
272. Betsey, ___?___?
273. Minerva, ___?___?
VI.
VII.
267. BENJAMIN SACKETT, 1762–1844, of Warren, Conn., married, Nov. 21, 1782, Betsy Eldred.
274. JUSTUS, 1784–1846.
275. Achsah, 1786–1831.
276. Nirom, 1787–___?
277. Simmons, 1788–___?
278. Lydia, 1790–___?
279. Clark, 1793–___?
280. Moses, 1795–1871.
281. Joanna, 1797–___?
282. Benjamin, 1799–___?
283. Orphia, 1801–___?
284. Minerva, 1803–___?
VII.
VIII.
274. JUSTUS SACKETT, 1784–1846, of Warren, Conn., married, Oct. 4, 1812, Polly Bradley.
285. Betsey J., 1813–1856.
286. Laura A., 1815–1867.
287. Emily S., 1817–1882.
288. Mary J., 1819–1894.
289. Lucinda, 1821–1876.
290. Cornelia M., 1822–1828.
291. Jennette E., 1824–1825.
292. LUCY E., 1826.
293. Justus B., 1829–1830.
VIII.
IX.
292. LUCY E. SACKETT, born 1826, married, Feb 17, 1859, Charles Lewis Huth, son of Emerich Huth and his wife Anna Maria ___?
294. Charles S. Huth, 1859.
295. Frank H. Huth, 1865.
LINE VIII.
(For preceding Generations see Lines III. and I.)
PARENTS.
CHILDREN.
Generation VII.
Generation VIII.
129. NORMAN SACKETT, 1791–1868, of New Lebanon, Columbia Co., N.Y., married Esther, daughter of Elisha and Hannah (Morgan) Waterman.
296. Edwin W. S., 1818.
297. Sarah, 1820.
298. MARVIN, 1822.
299. Delia M., 1824.
300. Mary, 1827–1890.
301. Esther, 1829.
302. Norman B., 1831.
303. Sophronia, 1835.
VIII.
Generation IX.
298. MARVIN SACKETT, born 1822, of New Lebanon, Columbia Co., N.Y., married Sept. 1, 1858, Julia, daughter of Plinny and Parmelia Jane (Cox) Goold.
304. Fred G., 1859.
305. Ella, 1863.
306. Allen D., 1864.
307. Harry M., 1866.
308. Grace J., 1871.
309. Fanny J., 1872.




LINE IX.
(For preceding generations see Lines VI, III and I.)
PARENTS.
CHILDREN.
Generation VI.
Generation VII.
235. PHILO SACKETT, 1766–1834, of Litchfield County, Conn., of Adison County, Vermont, of Aurelius, N.Y., and Chautauqua County, N.Y., married Dec. 12, 1787, Deborah Watterman, of Lynne, New Hampshire.
310. Jonathan, 1788–1789.
311. LETUS, 1793–1854.
312. Seth W., ___?___?
313. Clarra, 1799–1883.
314. Harriet, 1803–1879.
315. Eliza, 1806–1879.
316. Russell, 1809–1873.
317. Almira, 1812–___?
318. Martha, 1815–___?
319. ___?___?___?
320. ___?___?___?
VII.
VIII.
297. [sic: 311] LETUS SACKETT, 1793–1854, of Monkton, Addison Co., Vermont, and of Putnamville, Ind., was married five times. 1st, on Aug. 10, 1814, to Hannah Dinsmore. 2d, on Oct. 13, 1821, to Leah Orr. 3d, on Aug. 2, 1827, to Hannah Woolley. 4th, on Sept. 17, 1836, to Deborah Jack. 5th, on Jan. 14, 1844, to Widow Ruth Neal, who had previously been twice married, and whose maiden name was Parish.
321. ARCHIBALD W.,
322. Deborah L., 1824.
323. Philetus, 1828–1893.
324. Seth W., 1830–1857.
325. Mary, 1832.
326. Hannah L., 1833.
327. Elizabeth, 1846.
328. Ruth A., 1848.
329. Clarra H., 1851.
330. Amerilas, ___?
VIII.
IX.
307. [sic: 321] ARCHIBALD W. SACKETT, 1822–1889, of ___?, married Feb 23, 1851, Mahala T. Burcham.
331. JAMES H., 1859.
332. Leonard L., 1856.
333. William A., 1858.
334. Seth W., 1861.
IX.
X.
317. [sic: 331] JAMES H. SACKETT, of Catskill, New Mexico, married March 13, 1878, Anna, daughter of E.T.Davis, of Clayton, Mc. Mrs. Sackett was born in Iowa, Jan 15, 1858.
335. Minnie, 1879. 336. Darthula, 1881–1882. 337. Kate, 1884–1887. 338. Inez, 1890.

---

The Family Record, 1897

Nos. 9 and 10. Sept. and Oct., 1897

THE SACKETT FAMILY.

4. JOHN SACKETT, was born at Newtown (now Cambridge), Mass., in the year 1632. When about four years of age he journeyed on foot with his mother, in the Rev. Mr. Hooker's company, from Newtown, through the unbroken wilderness, a hundred miles, to the present site of the City of Hartford, Conn. In 1653 he settled in Springfield, Mass., receiving from the town commissioners a gift of four pieces of land, agreeable to an ordinance passed to encourage the speedy settlement of that place. In 1659 he married his first wife, Abagail [sic] Hannum, sold his land at Springfield and removed some fifteen miles up the Connecticut River to Northampton. There they lived until 1665, when he again sold out, and moved to a farm he had purchased of one Chapin, near Westfield, on what are now called Sackett's Meadows. Mr. Sackett's removal to Westfield was at the date of the first permanent settlement of that town, as well as of the commencment of King Philip's Indian wars. There Mr. Sackett built him a house and barn which were a few years later burned by the Indians. He also built a saw mill, on a creek that ran through his farm and emptied into the Woronoco (now Westfield) River. The building of a dam on this creek was the occasion of a vexatious law suit, brought against him by one Dewey, who claimed that by reason of Sackett's saw mill dam the water was backed up on his grist mill. The case was tried at Springfield by a jury who found for the plaintiff, but the court in giving judgment recited in the preamble that it was a hard case for the defendant, and "therefore ordered that the plaintiff should with his hired man and oxen work with said Sackett 9 days in taking down and removing said dam."

Mrs. Abigail Sackett died October 9, 1690, and not long afterward John Sackett married his second wife, Sarah ___?

Judge Garry V. Sackett in his manuscript records says: "In the fall of 1830 I visited the old graveyard at Westfield and saw the stones erected to John Sackett and Sarah Sackett. They stand in the south-east corner of the yard. His is broken near the middle, and the top part lies on the ground. It recites his name and that he died in the year 1712, aged 80. Hers is whole and recites that she died in 1690, aged 59."

It will be noticed by the interested reader that this record differs in several particulars from genealogical notes on page 42, which were made up mainly from records gleaned from Savage's "New England Dictionary," and Stiles' "Ancient Windsor," but which doubtless should read—the above authorities to the contrary notwithstanding—as follows:

4. John Sackett, 1632–1712, married Nov. 23, 1659, Abigail Hannam [sic], who died ___? He married second, Sarah ___?, who died Oct. 9, 1690, aged 59. He married third, about 1692, Sarah, daughter of John Stiles, and widow of John Stewart of Springfield.




LINE XXVII.
(For preceding generations see Line I.)
PARENTS.
CHILDREN.
Generation IV.
Generation V.
11. JOHN SACKETT, ___? 1728, of Newtown, L.I., married, Jan. 11, 1719, Elizabeth, daughter of Elnathan Field. He married second, Susannah, a sister of his first wife.
603. Elizabeth, ___?
604. WILLIAM, 1727–1802.
V.
VI.
604. WILLIAM SACKETT, 1727–1802, of Newtown, L.I., married, February 14, 1749, Anna, daughter of John Lawrence.
606. John, 1755–1819.
607. Daniel, 1759–1822.
608. JONATHAN, 1761.
609. Nathaniel L., 1764–1797.
VI.
VII.
608. JONATHAN SACKETT, 1761, married Sarah, daughter of Capt. Jacob Banks.
610. Jacob B., 1786.
611. Anna L., 1789.
612. William, 1792–1802.
613. John L., 1794.
614. Jonathan, 1801.




LINE XXVIII.
(For preceding generations see Lines XXVII and I.)
PARENTS.
CHILDREN.
Generation VI.
Generation VII.
606. CAPT. JOHN SACKETT, 1755–1819, married Elizabeth Gibbs, of Conn., who died May 27, 1836, aged 71.
615. William, 1784–1849.
616. Lawrence, 1786.
617. Anna, 1791.
618. Mary, 1793.
619. Patience, 1795.
620. Elizabeth G., 1799.
621. Amy L., 1804.

Source:
The Family Record, published by C H Weygant (Newburgh, NY, 1897).